Start the trip that will transform your life
is a wellness destination located in the charming white village of Vejer de la Frontera, Spain.
At the highest point of this historic village is VIVIR's rooftop terrace with breath-taking panoramic views of the Andalusian countryside and the Atlantic Ocean.
You can embark on different all-inclusive trips of 2 days/3 nights, 3 days/4 nights or 6 days/7 nights where you will enjoy physical well-being and inner peace.
Prepare to be nourished, inspired, strengthened and transformed on this remarkable retreat.
You will disconnect from stress and change your habits and connect with your inner self.
VIVIR is surrounded by breath-taking natural beauty and endless spiritual healing.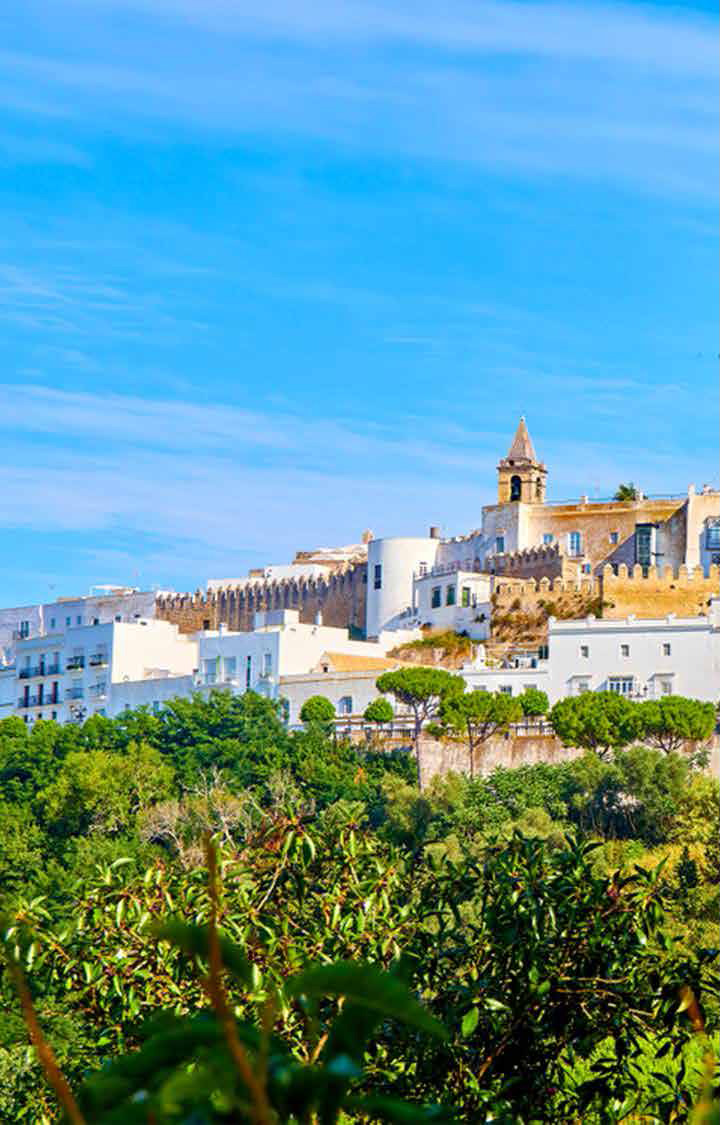 ALL INCLUSIVE RATES
Private accommodations (Single or Double)
Meals designed to nourish and detoxify
Daily guided hikes and afternoon fitness and toning sessions
Daily yoga and meditation
Daily massage
Laundry Services Sunday Afternoon – Sunday Morning
Transfers to and from Jerez de la Frontera Airport
Rates
Introductory Program
1.950€ * per Person
2 Day Program – 3 Nights
Check In on Thursday Afternoon – Check Out on Sunday Morning
Short Program
2.550€ * per Person
3 Day Program – 4 Nights
Check In on Sunday Afternoon – Check Out on Thursday Morning
Full Program
4.675€ * per Person
6 Day Program – 7 Nights
Check In on Sunday Afternoon – Check Out on following Sunday Morning
* Rates do not include tax or tip
A HISTORY MIXED WITH MODERN CONVENIENCES
The VIVIR program is centred on the V… Wellness Retreat, a beautifully restored 17th century manor house located in the charmingly and quaint village of Vejer de la Frontera, the southernmost Pueblo Blanco in Spain.
Shrouded in a serene and relaxing atmosphere, this unique wellness retreat inspires total relaxation and tranquillity.
V…'s terrace has a 360 degree panoramic view, making it the perfect place to meditate, practice yoga and soak in the breath-taking views of the Atlantic Ocean and the distant Moroccan coastline.
The mystical and magical atmosphere of Andalusia provides an incomparable setting to nurture and empower the mind, body and soul.
Enter the soothing atmosphere of V…
RELAXATION AND RESTORATIVE
SLEEP AWAIT
V…. offers 12 comfortable retreats where comfort, warmth and simplicity are meticulously blended to create cosy, tranquil havens.
Retreats are furnished with extra-large beds with crisp linens, antique Portuguese furniture from the Goan jungle, floor heating, air conditioning and contemporary open plan bathrooms with showers and/or bathtubs.
Transform your life through health, nutrition and restorative treatments with our programs. You will discover the tools to get the spiritual reinforcement you are looking for.